If you're betting on MMA, chances are that line you just took came from the brain of Joey Oddessa. Joey has been at the center of the betting industry when it comes to mixed martial arts, boxing, wrestling and combat sports oddsmaking for nearly three decades.
Getting his start as a young kid in the back of New York strip clubs, Joey quickly gained a reputation as one of the sharpest handicappers in the fight game. He's the originator of MMA odds for many of the top online sportsbooks in the world and if you're serious about betting on MMA, you're betting Oddessa's numbers.
Joey Oddessa has gone from booking numbers in New York Strip clubs to one of the world's premier Boxing and MMA oddsmakers. His "Oddessa Line" has become synonymous in mixed martial arts and boxing as the Stardust line was for the NFL before the casino closed down in 2006.
Joey Oddessa is widely considered to be the top oddsmaker for Boxing, Mixed Martial Arts, Amatuer Wrestling and the majority of combat sports that now have a regular spot on every sports betting menus for more than a decade. Oddessa didn't invent the wheel but gave it new tires and rims with his vision for the potential in the offshore markets since 1998. His path to what many, but not him, would consider success started long before his departure from the United States to Central America and the out laying islands. He is his often out spoken honest nature to the point of criticism has helped him coin the phrase 'sometimes wrong but never in doubt and never in tout.' If you disagree don't talk about it, bet it.
In 1989 at just 19-years-old, Oddessa got his start in the sportsbook industry working out of east coast strip clubs where he learned all the good, the bad and the ugly being both a bookmaker and a bettor. After 10 years of living in the shadows in New York and stretching down the east coast as far down as Florida, like so many others of that era, he made his leap of faith to move to the sunshine of Costa Rica.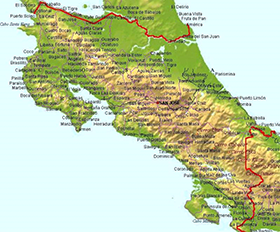 At the time, Costa Rica was seen as the new frontier for North American bookies looking to legitimatize their business. The Country was welcoming to the new industry; it was creating jobs for the locals and raising the living standards of the young people able to find jobs in the sportsbook call centers. Without a job or speaking a word of Spanish despite a college education in secondary education history he jumped on a plane and landed himself in a $20 hotel in downtown San Jose.
Oddessa explains his decision to move. "Straight up, I just got tired of anticipating another knocked in door and the legal fees that always accompanied working in a business that just wasn't legal in some parts of the USA," Oddessa said. "It became difficult to explain why everyday I'd get up at noon, go to lunch and go to OTB (off track betting). I'd work banker's hours, you know, and then stay out all hours of the night spending the cash and living what most thought was the good life." He continues, "Offshore and particularly Costa Rica was a risky but logical choice for me to pursue work in the sportsbook industry since it's legal here and there are as many sportsbooks as anywhere in the world for a country of its size. Costa Rica turned out to be my first and final drop down after a taste of residing in a half a dozen different countries (including Belize, Jamaica, Canada, Curacao, Canada, Mexico) from 1998 to the present. It wasn't all sunshine and rainbows though. I'm fortunate to be in the position I'm in."
Oddessa's vision turned to reality as Mixed Martial Arts became trendy and boxing was in a slump. Now MMA continues to become one of the fastest growing sports betting markets on the planet. His aggressive nature and work ethic seized the opportunity to corner the market as he went on to experience all of the highs and lows during an intense and on the job learning curve that led him through a half a dozen countries as he cemented his name and position as arguably the top combat sports odds maker and bettor of his time. When asked about his success he humbly credits his "misspent youth" and the demanding sport of "wrestling" for his success. But he didn't get there by playing nice.
Oddessa's father was a coach and official for USA Wrestling back in the 1980's so by the age of eight, Oddessa was already on the mats and learned the ambition and work ethic that individual sports can bring out in a person. "I'd wrestled half of my life. My dad was and still is a really tough guy. I mean, he was a Vietnam Vet. Those guys never got the respect they deserved. It's a lesson he learned well. You can't always get what you want without a fighting for something you believe in."
"I did a lot of bad things for what I believe were the right reasons and I can live with that."
The interest in the overall fight game went hand in hand with the strict discipline instilled by family's military history; he loved the yearly commitment of the wrestling that parallels the sport of mixed martial arts.
"I grew up in New York. We did a lot of fighting back when there were fewer lawyers and less guns. The days of kids fighting outside the ring or cage are far behind us unless you want to spend time in jail. In 2014 most of my closest mentors have passed and the days of the loser picking himself up off the ground and shaking off a beating has turned into phone calls to lawyers in pursuit of lawsuits and charges being filed. Wrestling and a strong family saved my life.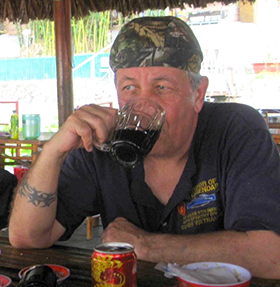 "I'm not a 'timing is often everything clichés.' I was in fortunate position to take advantage of the introduction of computers and with everything now on video and tape. I had to change. It's a soft generation."
"My glass wasn't even half empty and in hindsight it was completely broken. I had to change my entire way of thinking and adapt to the times. I'd like to think I created a new glass. The new glass alone was my vision, and the effort to fill it was my reward in itself."
When asked where his love of gambling comes from and he was just as candid.
"I think you're born into it, kind of like fighters. You have balls or risk in you. I don't like to use the word gambling much. I like to think when I wager it's with a huge edge every time I make a play on a fight. An investment."
Joey Oddessa, with his competitive nature, plus what he has learned from years of wrestling and fighting is what comes out when he talks about his 'Oddessa Line.' The 'Oddessa Line' is what many sportsbooks use as an opening line when dealing with MMA and boxing odds. The goal for the books isn't to know who is going to win every fight but rather create the most razor sharp price that generates two-way action.
"Ultimately, it has guys walking to bridges and grabbing razors while they try to figure out why they're pulling rabbit ears (empty pockets) at the end of the night. If other sportsbooks want to copy that's their choice. If they want to put leans and opinions into a number I'll give'em a taste of the learning curve by betting them until I believe their number's right or I'm content with my stake. They simply cannot out work me and if they do, they deserve my money."
The internet changed the way bookmakers could take action and Joey Oddessa took advantage of this considering the fact that he has over 25 years of experience in creating his own prices for boxing.
"There's a big difference between dealing a number to a clientele of locals who were easy to profile to a global market of players," Oddessa says.
"Mixed Martial Arts was relatively unknown before UFC 1 in 1993. I actually hand wrote wagers in UFC 1 to win the entire tournament. Royce was one of the longest shots at 10-1 to win it all. Shamrock was 3-1 and the Sumo Wrestler Tuli, the biggest fighter in field at 8-1 was bet down as if it (the fight) was (already) over. We all know how that turned out. Royce walked with the $50,000 check and Tuli went to the dentist."
His reputation among MMA writers and fight news sites has grown. In the early years Oddessa wasn't about being in the spotlight. Now he is often regular on sports television and radio talk shows like Gabriel Morency's MMA Meltdown on SiriusXM, the Fight Network, Game Time Decisions, Don Best Sports, Covers, Sportsrage and USA Today's MMA Junkie TV and Radio but it wasn't always that way. Las Vegas Sportsbooks were totally naive to MMA and wouldn't offer the options Oddessa introduced to the offshore world at online sportsbooks. Before I came offshore, there was no standard line on MMA and the boxing options were extremely limited. 16 years later it's one of the fastest and steadily growing markets in the world.
"Wisely the Ultimate Fighting Championships realized gaming would help bring legitimacy to the sport of Mixed Martial Arts and picked up a USA Today spokesperson and prominent tout in the early 2000's to preview the odds and the fights. If players can watch it, they will bet it and vice versa. To make a comparison, the NFL Sunday Ticket would struggle without wagering. If you can wager on it you may be more inclined to watch an otherwise unappealing bout or game."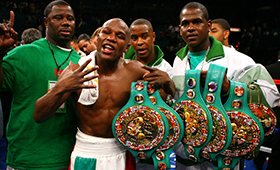 "They were my prices, my picks and the spokesperson's gig. But I was cool with it and still am. He acknowledged me on the air during the broadcasts. It was an early lesson in itself. Labels and titles like expert, pro, and so on without money are like Cub Scout badges. They're nice but non-paying without extensive marketing. The best touts are the ones with the best marketing. If you define the best business by the guys who make the most money. Gaming is a vicious cut throat industry full of card board cut outs. You have to pay your dues and have respect for the industry people that came before you. Sportsbooks and touts make competing drug dealers look honorable."
There are talks that boxing will not be able to compete with the rise of MMA and that there is a lack of high-level American boxers in the works, but Oddessa has a few words on that matter.
"Boxing is huge around the globe. Sure, it has its hiccups and problems but there's a ton of talented boxers out there that can carry the sport for years to come. They are two entirely different sports and you will always have critics. It's easy to call the plays from the cheap seats and that's where most of the internet journalists of the 21st century are sitting.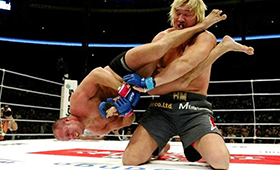 "Everyone who drinks in a bar thinks they can manage it better. Meanwhile they still spend their money in the same bar talking about it. Show me the money or I'll show you how to make it. Send limos for experts without longevity."
Oddessa has noted and explained the failures of some of now defunct fighting organizations.
"No one fighter can carry an entire organization. In fact, an organization can be put to out to pasture by over paying for talent and then not having anyone less than say a 8 to 1 favorite to put them in against. Look at the money organizations spent on Fedor (Emelianenko) in the past. It's tough to make up ground on an investment like that, especially when they find a way to get him beat. A marketing machine like the UFC can make a guy irrelevant in the media. I always said if HBO 24/7 could Floyd Mayweather vs. Ricky Hatton look like a Pick'em bout, anything is possible.&rdquo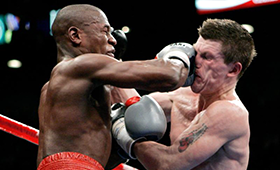 oddessa.com will bring an honest view of betting on MMA when it comes down to rankings, news, podcasts, live odds and much more. As he likes to call it, the "real."