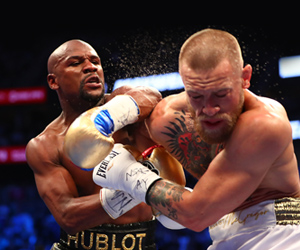 It's another 100-degree summer day here in fabulous Las Vegas. And while it's air-conditioned in the casinos everywhere on the Strip, the betting action is hot and heavy just a few hours before Floyd Mayweather and Conor McGregor go toe-to-toe at T-Mobile Arena.
At MGM Resorts sportsbooks, bettors are hammering "Money" Mayweather's betting odds. Jay Rood, vice president of race and sports for MGM, confirmed from his home base at The Mirage that a $1 million wager came in on Mayweather at -600 this afternoon, pushing the favorite up to -650 and the underdog McGregor to +450. Moments later, it changed again.
"As we're talking, we just took $325,000 on Mayweather," Rood said. "So I'm gonna go to -675/+475."
It almost got a little concerning for Rood, but right now, Mayweather money is still coveted due to the massive number of tickets written to McGregor. There's far more money on Floyd to win, but the volume of "Conor to win" tickets – with their hefty plus-money payouts – dwarfs Mayweather tickets by a more than 10/1 ratio.
"We're getting spun a little too much for my liking. I liked my position more at 11 o'clock this morning, when we had mid- to high-six-figure liability on McGregor," Rood said, though he added that he still feels good about where he's at on this megafight. "This gives us the opportunity to take McGregor bets all afternoon and not have to worry about it."
MMA oddsmaker Joey Oddessa, who helps supply odds to several offshore sportsbooks, said wagering action is still quite brisk as tonight's opening bell approaches.
"The bet count the past couple hours has still been a 5/1 ratio on Conor McGregor, while the actual bet size favors Floyd Mayweather at about five times the average individual wager amount on McGregor," Oddessa said, while noting historical levels of wagering. "This is the largest fight handle I've ever dealt with since being offshore (20 years). Hedge-fund executives have jumped out of windows for less money than is at stake in this fight tonight!"
The books Oddessa tracks generally have Mayweather -550 and McGregor averaging about +430.
"There are a few with lower prices, but I'm not sure what they're thinking," Oddessa said. "They left their balls in the car on the way to the office."
At offshore sportsbook Bookmaker.eu, fight handle is already in record territory, with still a few hours to go before festivities begin in Vegas.
"The total money handle has exceeded the Mayweather-Pacquiao bout and is now the sportsbook's most heavily wagered fight in its combat sport 30-year history," said Scott Cooley, odds consultant for Bookmaker.eu. "In comparison, the fight has attracted more money than most NFL regular-season matchups from last year, and all college football games outside of the national championship."
This afternoon, Bookmaker.eu still had Mayweather at -535, with McGregor +415 on the buyback.
"We really thought the Mayweather money would come in heavy at the low price, and it still may, but at this point, we are surprised to see the steady volume McGregor continues to attract," Cooley said. "Those bettors haven't slowed down, and they likely won't."
All that said, every sportsbook is going to need Mayweather tonight. Jeff Stoneback, director of trading for MGM Resorts books, said Vegas operators could see their largest loss ever if McGregor pulls the upset. Yet most books – along with sharp and high-roller bettors – are comfortable with the position they're in, hoping Mayweather is as close to a sure thing as there will ever be.
"When it's all said and done, if it comes out Mayweather decision, that would be our best-case scenario. We want Mayweather," Rood said. "I thought we'd close at -700 or -750, and it looks like that's what the town's gonna do. I think the town is creeping that way."
One thing is certain: tonight will culminate an extraordinary few weeks in sports betting here in Vegas and at the offshore books. MGM opened Mayweather a -1200 favorite, with McGregor -700. The odds went as low as -525/-325. Other books opened even higher – in some cases far higher – and some dropped even lower. Bookmaking is not for the faint of heart when it comes to an event as unusual as this – the best boxer of this generation taking on a UFC superstar who has gone out of his comfort zone and into boxing.
"It's what really separates the men from the boys in this business," Oddessa said. "Some people are going to be really pleased they stuck to their guns with Floyd, while others are going to wonder what they would have made if they didn't drop their prices so low – provided Floyd wins, of course. It's a once-in-a-lifetime handle on a once-in-a-lifetime flight.
| Title: Another $1 million bet rocks the Mayweather vs. McGregor betting odds in Las Vegas

| Author: Patrick Everson / covers.com
| Date: Aug 25 2017