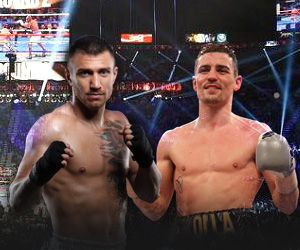 Vasiliy "Hi-Tech" Lomachenko (12-1 9 KOs), of Ukraine, the best pound-for-pound fighter in the world, puts his unified lightweight championship on the line against former titleholder "Million Dollar" Anthony Crolla (34-6-3 13 KOs), of England, on Friday at Staples Center in Los Angeles (ESPN+, 11 p.m. ET).
Lomachenko-Crolla odds
| Fighters | Opening Odds | Odds as of April 10 |
| --- | --- | --- |
| Lomachenko | -8000 | -8000 |
| Crolla | +1800 | +1800 |
Odds courtesy of Westgate Las Vegas SuperBook
Here's a look at where the money is going from Vegas bookmakers, opinions from boxing experts, boxers and trainers, and my prediction for the fight.
Where is the money going?
Jeff Sherman, Westgate Las Vegas SuperBook's VP of risk management, opened the fight with Lomachenko -8000 and Crolla +1800.
"We have not written any action on this fight thus far," Sherman said.
Sherman opened the fight total at 9.5 rounds, under -260 and over +210. With such a big favorite in Lomachenko, the SuperBook should see action on the underdog and the total come fight time.
At William Hill US, senior trader Adam Pullen opened the fight with Lomachenko -7000 and Crolla +2000.
"We have some small action on the 'dog Crolla thus far but not too much action," Pullen said.
Pullen opened the total at 9.5 under -260 and over +220 and has seen decent action on the under but is expecting more 'dog action come fight time.
Experts weigh in
–Abraham Gonzalez (boxing sharp): Lomachenko is going to do what he does to most fighters, which is use his speed and angles to frustrate them. Look for the volume of punches to overwhelm Crolla around the night round, leading to a stoppage. Lomachenko by the ninth-round TKO.
–Stephen "Bredman" Edwards (boxing trainer): Lomachenko by complete domination.
-Jamel "Semper Fi" Herring (fighter): I think the fight deserves more credit than it has been getting, for starters. Yes, we all know that everyone wanted to see (lightweight world titlist Richard) Commey (face Lomachenko) instead of Crolla, but in the past, Crolla has been in a few good fights at the highest level. I can see Lomachenko getting the victory with his tricks and tools, but I don't see him stopping Crolla. Since (Lomachenko) has been at lightweight, he has not been completely dominant as he was at featherweight and junior lightweight, with a huge heart, so I know he's going to bring it come fight night.
-Luke Chapman (boxing sharp): Pound-for-pound No.1 Lomachenko to put on a clinic against "Million Dollar" Crolla. I'm not overly invested in this fight, something small on a Lomachenko win in Rounds 7-9 +250.
–John "Iceman" Scully (boxing trainer): Lomachenko is in a groove right now and in a zone. He can get good challenges from many good guys, but I don't see anyone out there right now who's going to beat him. He will be in for a tough fight but clear-cut victory.
–Cynthia Conte (Ring TV boxing correspondent): Lomachenko is back to his wizardly ways and gracefully working the ring with impeccable footwork and quick hand speed. Crolla has earned this world title shot. Coming off three consecutive wins, he wants –and needs— to keep that momentum. Crolla has great head movement but lacks power to finish the job. Lomachenko will do what he does best: attack, frustrate, break him down mentally and physically. Lomachenko by unanimous decision.
–Evan Young (boxing sharp): Crolla lost widely to a fighter that Lomachenko stopped and mostly dominated (Jorge Linares). Triangle theory doesn't always apply, but Lomachenko has the best feet in the business and is superior in every other way. Crolla is always earnest, and i think hell hang around until the eight-round or so. Lomachenko by stoppage in the last third of the fight.
–Percy Crawford (boxing sharp): I think this fight is a mismatch. Lomachenko should have no problems with Crolla. Lomachenko TKO in round 7.
-Jim Karas (boxing sharp): Do you believe in miracles? It's going to take one this Friday for Crolla to beat Lomachenko. The odds are indicative of that, with Lomachenko as a huge favorite. Crolla is a straightforward puzzle that Lomachenko should be able to solve rather easily. Crolla will walk forward with his high guard and get picked apart. This is a massive mismatch, and I can't see this going the distance. Lomachenko by KO, TKO, DQ is -550, but if looking for the better value, take the under -.5 rounds at -250. Both should get there.
–Joey Odessa (boxing sharp): I don't see anything at all that makes me think Crolla can win this fight. The only question is whether or not the -8000 (80-1) favorite Lomachenko will stop him inside the distance.
I expect the southpaw to beat the brakes off of Crolla on Friday night. Crollas proven to be durable, I can see the referee or his corner stopping a one-sided beating before the money rounds. This is Crollas first fight outside of the U.K. or Ireland in nearly eight years.
Either way, this fight won't go 12 full.
Lomachenko wins inside the distance.
–Michael Mohan (boxing sharp): I expect Lomachenko to dominate Crolla, and I am not alone. Lomachenko stops Crolla late.
–Matt Andrzejewski (boxing sharp): Crolla is one tough, durable fighter. He has been stopped only once, and that was seven years ago. But he also can't remotely come close to matching the skill set of Lomachenko. I see Crolla hanging in there for at least seven rounds all the while taking a one-side beating until his corner ultimately (stops the fight).
–Ryan O'Hara (boxing sharp): Lomachenko is one of the best technical fighters in the sport with (incredible) footwork and defense. Crolla doesn't have the power to have a punchers chance. Lomachenko is classes above Crolla, and it will show with a one-sided seventh-round stoppage.
Face to face
Lomachenko: At 31, the Ukraine native is a five years pro, a three-division world titleholder and the Boxing Writers Association of America 2017 fighter of the year. He is also ESPN No1 pound for pound fighter. Lomachenkois a special fighter who is dominating opponents in ways they have never been beaten. His only loss to Orlando Salido (41-12-2) in Lomachenkos second pro fight.
Crolla: The 32 year old form Manchester, England, is a 12 year pro, a former WBAlightweight world champion and the current No1 Ranked WBA challenger. He won the title over Darleys Perez in 2015 after having a draw with him in the first bout the same year. He lost the belt in his second defense in 2016in Manchester in a 12-round unanimous decision against former featherweight and junior world titleholder Jorge Linares (whom Lomachenko beat in May last year via TKO in round 10). Crolla has won three fights in a row since.
Betting the fight
The panel members all agree that Lomachenko is going to be the winner. No one in their right mind can envision laying that high of a price, so we will have to look at the total rounds. While Crolla has been stopped only once and is tough as nails, I don't see him keeping up with the arsenal Lomachenko is going to bring. It could get dicey, bit I like the under 9.5 rounds.
Pick: Under 9.5 rounds -260.
| Title: Best bets for Vasiliy Lomachenko vs. Anthony Crolla
| Author: ESPN+ / Johnny Wilds
| Date: April 11, 2019