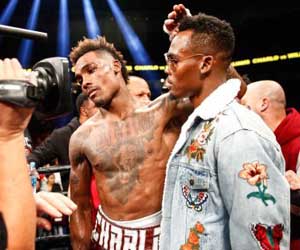 Saturday night in Brooklyn at the Barclays Center was supposed to be a massive night for the Charlo Twins.
Jermall and Jermell Charlo were supposed to send a message to the 154 and 160-pound divisions. Instead, the twins made more of a mess.
The heavily favored brothers were expected to blow past their opponents, but the Charlos instead finished the evening 1-1 with controversy abound in both fights.
To begin the evening, Jermell Charlo lost his WBC Junior Middleweight title via unanimous decision to Tony Harrison. The three judges scored the fight in favor of Harrison (116-112, 115-113×2), but many–including Jermell–felt the champion might have gotten robbed.
Charlo outlanded Harrison 160 to 128. Harrison out jabbed Charlo 57 to 52, but the latter owned a significant advantage in power shots 108 to 71. Harrison landed a higher percentage of his punches and focused on countering, but it's difficult to see him beating Charlo here, let alone by four rounds. The problem here is that this fight wasn't supposed to be close.
Jermell looked so focused on scoring some sort of statement-making KO that he abandoned the boxing skill that helped lead him to the 154-pound title. When it was over, Jermell made his feelings about the judges' decision known but vowed to come back stronger.
With his focus affected, Jermall took the ring to defend his WBC interim Middleweight title against Matt Korobov, a late replacement for Willie Monroe Jr. He was pulled after testing positive for a banned substance. Jermall got past Korobov, but it was a struggle. How big of a battle?
FOX and Ring Analyst Mike Coppinger said he scored the fight even. The official judges gave Jermall the decision with scores of 119-108, 116-112 and 116-112, all in the champion's favor.
Korobov, who is an experienced pro with an impressive amateur background, made it competitive throughout. Jermall seemed a little off his game, but his speed and overall athleticism allowed him to beat the challenger to the punch repeatedly. Still, no one thought this fight would be close–or go the distance for that matter.
Charlo rocked Korobov badly in the 12th, but couldn't put him away. While he won, it's safe to say; he didn't emerge as a more highly regarded world-title contender.

Why did this happen?
There are a few things to examine, and the root of all of them is pressure. There was the pressure to perform on the kickoff of PBC on Fox. The twins were being set up to carry the flag for PBC on its new network potentially. They wanted to perform well and turn heads. There is also the pressure of doing all of this on the same card.
In listening to his comments during the post-fight interview, Jermell seemed almost as if he felt he let Jermall down. Likewise, Jermall was visibly affected as he saw the decision to Jermell's fight unfolding on the backstage monitor.
You cannot underestimate the weight the brothers carry when competing on the same night, especially on a stage this big. They will probably need to get by this issue in the future or intentionally schedule fights on different dates.
After Jermell's loss, which knocks him out of a potential unification bout with Jarrett Hurd for the time being, his obvious next course of action is a rematch with Harrison. After the fight, Harrison seemed open to that possibility, so perhaps the two men can have a quick turnaround, and they can meet again sometime during the spring.
As for Jermall, he's still the interim champion and the mandatory challenger for Canelo Alvarez in the WBA. However, how many people believe he's ready for that challenge after Saturday's showing against Korobov? I'll be the first to admit; I thought he had a great chance to give Alvarez problems. After squeaking by Korobov, I have my doubts.
Jermall would be better off taking on another veteran who can push him and hopefully help to take his game to the next level. If, and when, he ever gets a shot at Canelo he'll need to be a better version of himself than he was on Saturday.
| Title: Charlo Twins' Big PBC On Fox Debut Was Nearly A Big Disaster
| Author: Brian Mazique // forbes.com
| Date: Dec 24, 2018