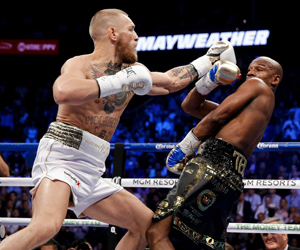 If the unthinkable happened Saturday night – Conor McGregor scoring the upset of a lifetime by beating Floyd Mayweather – it would have been a monumental loss for sportsbooks across Las Vegas, the state of Nevada and in the offshore markets.
So conversely, Mayweather's 10th-round technical knockout victory was a massive boost for the books. The reaction was crystal clear in a late Saturday night text message from Tony Miller, sportsbook director for the Golden Nugget in downtown Vegas.
"Great result, could not be any happier," Miller told Covers. "Any result (for Mayweather) in the later rounds was great. I'm partying hard now!"
Things were calmer on Sunday morning, but sportsbook operators were no less happy about how this turned out. Even after having to pay out Mayweather backers on multiple seven-figure bets and a slew of six-figure bets, it was a huge win, thanks to not having to pay out on the overwhelming number of McGregor tickets at healthy plus-money prices.
Jeff Stoneback, director of trading for MGM Resorts books, provided some relevant context.
"We did very well. It was our largest boxing win ever. Basically, it was as good as the Super Bowl for us," Stoneback said, alluding to New England's comeback victory over Atlanta last February, turning a big loser into a good winner.
It was an unusual day for MGM books, including Stoneback's home base at The Mirage. Early in the afternoon, MGM took a $1 million wager on Mayweather to win, followed a little later by a $325,000 Floyd bet, and then a $750,000 Mayweather wager. And MGM books welcomed all those wagers, very much wanting Mayweather money.
Those bets pushed Mayweather from a -600 to a -675 favorite. But then…
"The money seemed to dry up after that," Stoneback said. "At one time, we were a two-way winner, but after the fight went off, we'd have been a big loser to McGregor."
MGM books closed Mayweather at -550, with McGregor +350. Thanks to MGM Resorts also hosting the fight, as partners of T-Mobile Arena, Stoneback got to take in the action on closed circuit in the backroom of The Mirage sportsbook.
"It was very exciting. Obviously, McGregor did better than everybody expected," Stoneback said, noting that the Irishman hanging on through the ninth round provided another key win for MGM. "With 1:20 to go in the ninth, it looked like McGregor might go down. Once he got through the ninth round, that was a significant winner for us. Our live wagering was -2500 on Mayweather going into that last round. You could see McGregor was gassed at that point."
Offshore books reveled in Mayweather's victory, too. Peter Childs, risk management supervisor for Sportsbook.ag, said the outcome was a home run on multiple fronts.
"We crushed. It couldn't have been a better result for us," he said.
Joey Oddessa, who provides MMA/boxing odds for several offshore operators, said he never felt the outcome was in doubt, though he admitted McGregor "fought a brave fight." Sportsbooks everywhere, he said, should be extremely grateful this money-printing bout came together.
"Every sportsbook on the planet should have had a great payday," Oddessa said. "Some may look back with their glass half-full for going too low with the price, but all should be thanking all the parties involved for making what once seemed impossible actually happen."
And on a personal note, Oddessa was thankful, too. Just before the fight, he said:
"Needless to say, I need Floyd personally for about my condo in Costa Rica."
Nick Kalikas, also a highly regarded MMA oddsmaker, echoed Oddessa's sentiments, also having cashed a couple tickets.
"A good result for the books, good result for me personally, as I had Floyd and under 9.5 rounds," Kalikas said. "Most sharps made out well. It really was a win-win across the board. McGregor did much better than any of us expected. His fans and even the public bettors that were on him can all respect a performance like that."
Back in Sin City at the Westgate Las Vegas Superbook, Mayweather's price got as high as -700 on Friday, then went for a wild ride throughout Saturday, dropping to as low as -460 before closing at -550, with McGregor +400 on the buyback. But it certainly worked out fine when, with 1:55 remaining in the 10th round, the referee stepped in to stop a flagging McGregor.
"Very positive for us," said Jay Kornegay, who operates the Superbook as the vice president of race and sports for the Westgate. "Another 25 seconds would have been better, but no worries."
Indeed, the Superbook would have gotten a boost from the prop bet of Over 9.5 Rounds, but Kornegay certainly wasn't complaining. The Mayweather-Manny Pacquiao fight of May 2015 set the standard in Nevada for total boxing handle, as it approached $60 million. Most bookmakers here in Vegas believe this fight's handle will eclipse the Floyd-Manny bout.
"Our handle on the fight itself – Mayweather or Conor to win – was just short of Mayweather-Pacquiao," Stoneback said. "But with all the other different props, there was more interest, so we wrote more than on Pacquiao-Mayweather."
Although a disaster was never expected, there's always that puncher's chance that it could have happened. Sunday morning was the calm after the storm, and all was quiet – and quite profitable – on the sportsbook front.
As Nick Bogdanovich, director of trading for William Hill US, put it: "Very good. All precincts good."
| Title: Floyd Mayweather's victory over Conor McGregor on Saturday night was a massive windfall for sportsbooks

| Author: Patrick Everson / covers.com
| Date: Aug 26 2017