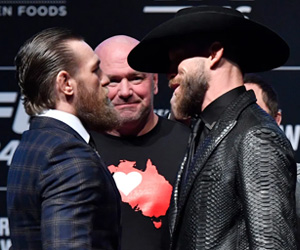 UFC 246 takes place Saturday night in the shadow of the Las Vegas Strip, at T-Mobile Arena. Action on the bout between Conor McGregor and Donald Cerrone varies, depending on whom you're speaking with about the main event.
But interest is rapidly picking up, to be sure, and it will ramp up a lot more throughout the day Saturday, leading up to the fight.
"The biggest bet so far is $14,000 on McGregor -280, and we just got a $10,000 bet on Cerrone +260," Scott Shelton, sportsbook supervisor at The Mirage, said Friday evening of wagering at MGM Resorts sportsbooks. "By tomorrow, it'll be like $140,000 or bigger. I'm sure we'll take huge bets on this."
Respected MMA oddsmaker Joey Oddessa told Covers that the ticket count he's seeing in the online market is 3/1 on McGregor (21-4), whose last fight was 15-plus months ago. On Oct. 6, 2018, he was dealt a fourth-round submission loss to Khabib Nurmagomedov.
Oddessa said money was flowing toward the Irishman, as well.
"It's pretty simple: action has been all one way since an online opened it McGregor -165," Oddessa said. "I've seen a steady flow of sharp and public money on McGregor. The price hasn't gotten high enough for these guys to start liking Cerrone yet. It may never get high enough."
However, at MGM books, action has been much closer to a draw. The underdog Cerrone (36-13), who lost his last fight by first-round knockout to Justin Gaethje on Sept. 14, has gotten some attention.
"It's pretty good two-way on the money. Right now, we're a small five-figure loser to Cerrone," Shelton said. "There are more tickets on Cerrone, as well, which is kind of surprising. The big high rollers, who will make this a decision, will come in Friday night, and we'll see those bets Saturday. The really big bets will be on McGregor, but people betting $50 or $100 will be on Cerrone."
Despite the two-way play at MGM, McGregor stretched from the opening price of -240 to -350, before dialing back to -300. Cerrone opened +190 and reached +280, then tightened to +250 after another $10,000 bet came in later Friday.
Oddessa said he's seen Under money on the round proposition bets, as well as cash on the fight not going the full five rounds.
"I saw these donkeys open McGregor inside the distance at -125. It's up to -245 now," Oddessa said. "I understand they didn't want to give it away, but you would expect Cerrone to be in the fight if it gets past three rounds, anyway. So why wouldn't (bettors) take a shot on the 'dog?"
| Title: UFC 246 ACTION AND ODDS MOVES: BIGGER BETS LAND ON MCGREGOR FOR CLASH VS. CERRONE
| Author: covers.com/ / Patrick Everson
| Date: Jan 17, 2020