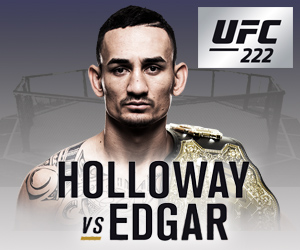 – It's the story of Frankie Edgar's career: Everybody underestimates him.
That isn't about to change.
As MMAjunkie first reported and was later announced by the UFC, Edgar (22-5-1 MMA, 16-5-1 UFC) is set to challenge featherweight champion Max Holloway (19-3 MMA, 15-3 UFC) in UFC 222's pay-per-view main event, which takes place March 3 at T-Mobile Arena in Las Vegas.
It's a rebooking of a bout that originally was supposed to happen in December at UFC 218, but Edgar withdrew roughly four weeks out because of a broken orbital suffered during training camp. Holloway went on to defeat Jose Aldo by third-round TKO at UFC 218 in a rematch of their June title fight, which ended in the same manner.
In the grand scheme of things, veteran MMA oddsmaker Joey Oddessa sees this bout as a matchup of two underdogs.
Related
UFC champ Max Holloway wants to 'make everyone believe the hype' with multiple title defenses in 2018
"People have been betting against both Edgar and Max their entire careers," the told MMAjunkie, "and now they're forced to pick between the two."
While that might be true, Oddessa believes the choice is clear as the Oddessa Line has set Holloway at -300 and Edgar at +235, making the champion a sizeable favorite.
That means a winning $100 bet on Holloway would result in a net profit of $33.33 (with an implied win probability of 75 percent). A winning $100 bet on Edgar would come with a profit of $235 (win probability 30 percent).
It's not hard to see why the odds are this way. Holloway, MMAjunkie's "2017 Male Fighter of the Year," is on a phenomenal 12-fight winning streak, just the fifth fighter in UFC history have a streak that long. He hasn't lost since 2013, and he has the most overall wins and stoppage wins in UFC featherweight history at 14 and nine, respectively.
There's also the fact that Holloway twice dominated Aldo last year to win the title and in his first defense. Aldo, of course, twice defeated Edgar by unanimous decision in title fights, most recently in July 2016 at UFC 200.
"Max has shined in the underdog roll and steamrolled recent opponents as a betting favorite," Oddessa said. "He was a 3-to-1 favorite against two-time Edgar conqueror Jose Aldo. If Edgar doesn't put the younger Holloway on his back and keep him there during the five rounds, it's going to be a long night for him. People who lay the 3-to-1 on the champ should get the money."
But then again …
"Frankie has been left for dead throughout his career," Oddessa said, "and turned out to be maybe the biggest overachiever who is still active on the UFC roster."
| Title: Chamatkar Sandhu, Joey Oddessa and Scott Ghertner are on today's show.
| Author: MMAjunkie
| Date: JAN 10, 2018
---
---