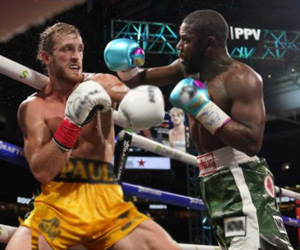 – Fight expert Joey Oddessa expressed disappointment over what some viewed as a fiasco Sunday night: undefeated veteran o fthe ring Floyd Mayweather Jr. taking on unproven YouTube sensation Logan Paul.
It was a fight that went the distance, even though Mayweather promised it would not.
Oddessa is not alone in his assessment of Sunday night's exhibition fight. Emmanuel Morgan of the New York Times writes that "the norms within boxing and mixed martial arts shook yet again when Logan Paul fought Floyd Mayweather on Sunday without a satisfying conclusion. The pattern may continue."
He added:
"The bonanza aligned with a persistent theme for combat sports right now — the debate on how to consistently elevate fights into the mainstream consciousness. In doing shows like these, promotions demonstrate that they are willing to appease the masses. And it may become the most-used strategy as the sports and their stars evolve.
The pattern of shaking established norms doesn't seem to be fading soon. White, the U.F.C. president, reportedly blocked a potentially lucrative boxing match between the U.F.C. legend Georges St.-Pierre and the boxer Oscar De La Hoya. St.-Pierre, 40, said it would have been a "dream come true" to fight De La Hoya, 48, who is one of his favorite boxers.
You won't see bookmakers the likes of BetOnline complaining, despite the lopsided perceived talent (Logan taking this one the distance aside). As we reported Monday, BetOnline had its second biggest new signup day in the company's 20 plus years in business Sunday. It's previous biggest signup day was when Mayweather Jr. took on Conor McGregor. The later is set to fight Dustin Poirier in a competitive bout that has all the makings of a record breaker as well.
Conor McGregor is a -122 favorite in that fight.
Mayweather reportedly made tens of millions to 'fight' Logan Paul, but has said he's unlikely to return to the ring – even for exhibitions, no Jake Paul or McGregor.
George Foreman
Former heavyweight champ George Foreman raves about Floyd Mayweather-Logan Paul, celebrity fights
"The strangest thing is I'm starting to enjoy these exhibitions a lot more than the so-called competitive fights they put on because there's no entertainment value to those,'' Foreman, a former two-time heavyweight champion, told USA TODAY Sports. "These have entertainment value.
"Mayweather turned into the slugger, following the guy around. And (Paul) is as long as Wilt Chamberlain with that jab. It was exciting.''
Keyshawn Davis
Keyshawn Davis to fight at Tokyo Olympics despite going pro
Keyshawn Davis' quest for Olympic gold is back on. Davis and two fellow American boxers were awarded places in the Tokyo Olympics on Monday, allowing Davis to make an improbable return to USA Boxing.
Davis, 22, won his first three pro fights over the past 3½ months, and now he will be one of the favorites in the 63-kilogram division in Tokyo. Davis should also attract plenty of wagering activity.
He is likely the top men's candidate for a gold medal on the U.S. team, which is sending five men to Tokyo with the additions of Davis, featherweight Duke Ragan and middleweight Troy Isley at the conclusion of the haphazard Olympic qualifying process caused by the coronavirus pandemic.
| Title: Fight Betting Beat
| Author: Don Shapiro / Gambling911.com
| Date: June 8, 2021